Omni-channel leader with a presence in more than 250 cities in France, Monoprix, french retail chain, offers varied innovative products and services every day with a single objective in mind: "making the good and the beautiful accessible to all". 
The company's stores combine food retailing with hardware, clothing, household items and gifts. To give some stats on the firm, Monoprix in 2020 is : 
Nearly 590 stores in France,

22,000 employees,

Approximately 100 stores internationally,

800,000 customers per day,

466 local partner producers.
With close to one million customers in store and more than 1.5 million users on their website each day, it's no secret that Monoprix has hundreds of thousands of data to manage! Whether it's from loyalty cards, customer receipts or online delivery orders, the company has to manage a huge amount of data in a variety of formats. 
At Big Data Paris 2020, Damien Pichot, Director of Operations and Merchandise Flows at Monoprix, shared with us the company's journey in implementing a data-driven culture thanks to the Cloud.  
Big Data at Monoprix
In response to the amount of data that was coming into Monoprix's data systems every day, the company had implemented various technologies: an on-premise data warehouse for structured data and a data lake in the cloud, which was used to manage the semi-structured data coming from their websites. In addition, a lot of data also comes from partners or service providers, in the context of information exchanges and acquisitions.
Despite the fact that the architecture had been working well and fulfilling its role for many years, it was beginning to show its limitations and weaknesses: 
"To illustrate, every Monday, our teams gather and analyze the profits made and everything that happened the previous week. As time went by, we realized that each week the number of users logging in to our information systems was increasing and we were reaching saturation. In fact, some of our employees would have to get up at 5am to launch their queries, only to retrieve it that day in the late morning or early afternoon," explains Damien Pichot. 
Another negative aspect of the company's IT structure was regarding their business users, and more specifically the marketing users. They were beginning to develop analytical environments outside the control of the IT department, thus creating what is known as "shadow IT".  The Monoprix data teams were obviously dissatisfied because they had no supervision over the business projects. 
"The IT department represented within Monoprix was therefore not at the service of the business and did not meet its expectations". 
After consulting the IT committee, Monoprix decided to break off their contract with their large on-premise structure. The new solution had to answer four questions:
Does the solution allow business users to be autonomous? 
Is the service efficient / resilient?
Will the solution lower operating costs?
Will users have access to a single platform that will enable them to extract all the data from the data warehouse and the data lake in order to meet business, decision-making, machine learning and data science challenges? 
After careful consideration, Monoprix finally decided to migrate everything to the Cloud! "Even if we had opted for another big on-premise solution, we would have faced the same problems at some point. We might have gained two years, but that's not viable in the long term." 
Monoprix's journey to the Cloud
Monoprix started this new adventure in the Cloud with Snowflake! Only a few months after its implementation, Monoprix quickly saw improvements  compared to their previous architecture. Snowflake was also able to meet their needs in terms of data sharing, which is something they were struggling to do before, as well as robustness and data availability.
The first steps
During the conference, Damien Pichot explained that it was not easy to convince Monoprix teams that a migration to the Cloud was secure. They were reassured with the implementation of Snowflake, which carries out a level of security as high as that of the pharmaceutical and banking industries in the United States. 
To give themselves all the means possible to make this project a success, Monoprix decided to create a dedicated team, made up of numerous people such as project managers, integrators, managers of specific applications, etc. The official launch of the project took place in March 2019. 
Damien Pichot had organized a kickoff, inviting all the company's business lines: "I didn't want it to be an IT project but a company project, I am convinced that this project should be driven by the business lines and for the business lines". 
Damien tells us that the day before the project was launched, he had trouble sleeping! Indeed, Monoprix is the first French company to embark on the total migration of an on-premise data warehouse to the Cloud!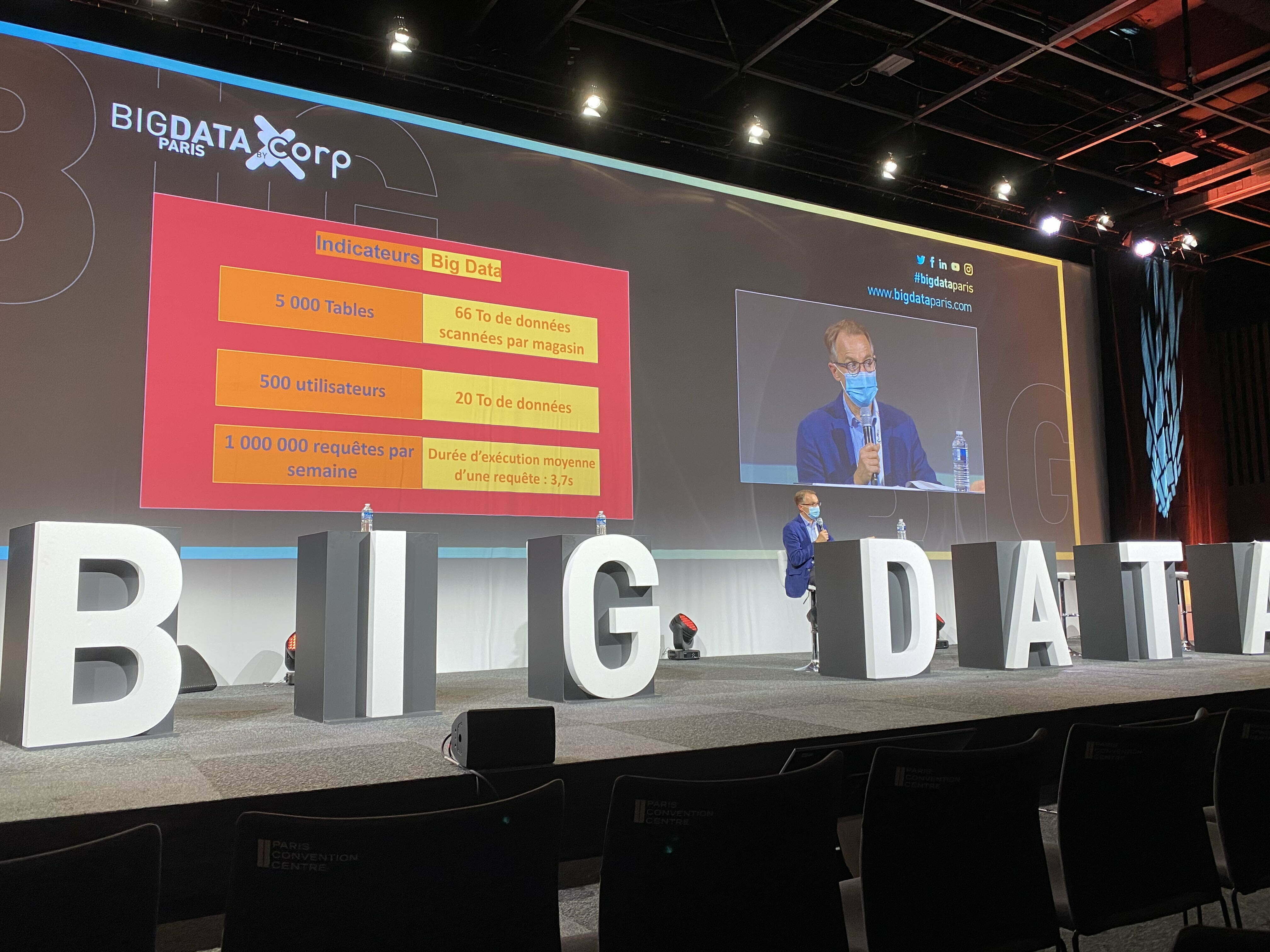 The challenges of the project 
The migration was done in an iterative way, due to a strong technical legacy, because everything needed to be reintegrated in a technology as modern as Snowflake. Indeed, Monoprix had big problems with its connectors: "We thought at the time that the hardest part of the project would be to automate the data processing. But the most complicated part was to replatform our ETLs in a new environment. So we went from a 12-month project to a 15-month project."
The new architecture 
Monoprix therefore handles two types of data: structured and semi-structured data. The structured data comes from their classic data warehouse, which contains data from the Supply Chain, Marketing, customer transactions, etc. And the semi-structured data that comes from website-related events. All of this is now converged via ETLs into a single platform running on Azure with Snowflake. "Thanks to this new architecture in the Cloud we can attack the data we want via different applications," says Damien.
Conclusion: Monoprix is better in the Cloud
Since May 2020, Monoprix has been managing its data in the Cloud, and it's been "life changing". On the business side, there is less latency, queries that used to take hours now take minutes, (and employees are finally sleeping in the morning!). Business analyses are also much deeper, with the possibility of making analyses over five years, which was not possible with the old IT structure. But the most important point is the ability to easily share data with the firm's partners and service providers.
Damien proudly explains.  "With the old structure, our marketing teams took 15 days to prepare the data and had to send thousands of files to our providers, today they connect in a few minutes and they fetch the data alone, without us having to intervene. That alone is a direct ROI."