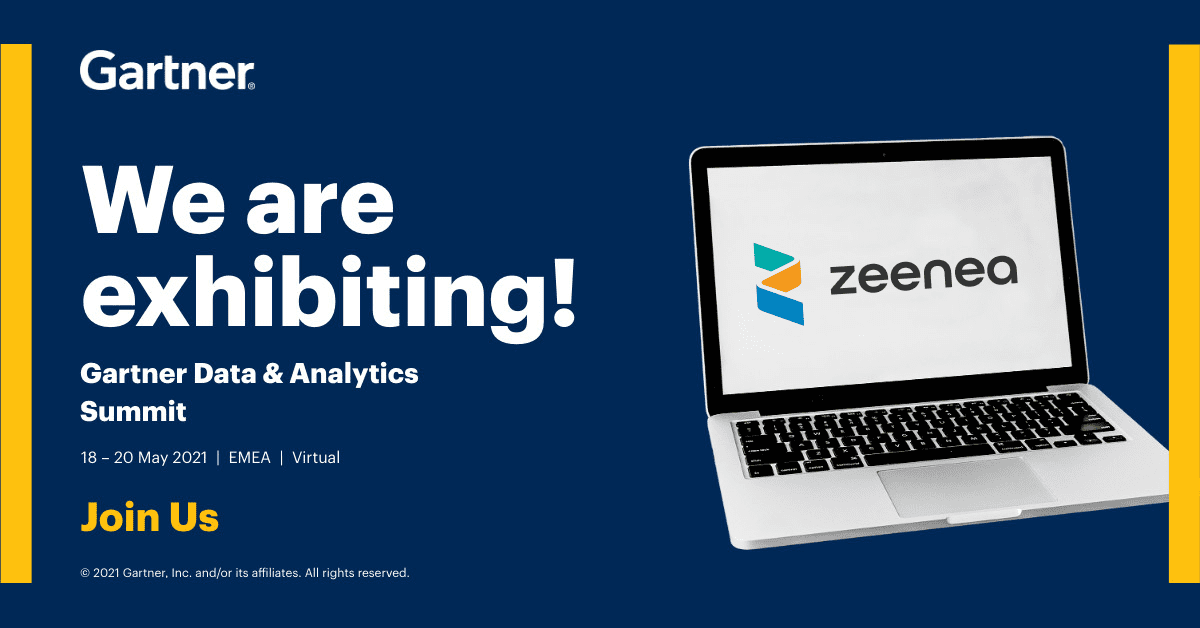 Zeenea is proud to announce that we will be sponsoring this year's Gartner Data & Analytics on May 18th – 20th!
We are looking forward to meeting you for this 100% virtual event !
Why should you join us?
Learn more about Zeenea Data Catalog 
Watch our Live Product Demo 
Discover our White Papers about Data Governance, Metadata Management, etc.
Request a meeting with Zeenea's experts 
Why attend Gartner Data & Analytics Summit 2021 ? 
By joining this event you will be joining data and analytics leaders from all over Europe to gain the skills to build and execute a world-class strategy. There will be more than 3000 delegates and more than 40 exhibitors this year.

The simplicity of Zeenea's implementation allows to deliver & use its cloud-based data catalog anywhere in the world!
ATTEND OUR LIVE PRODUCT DEMO –
"
15 minutes to Connect Zeenea Data Catalog to the 3 Major Cloud Providers. On your marks, get set, go!"
Our cloud-native data catalog offers the best next-generation environment for your data teams.  Zeenea's by-design characteristics enable your teams to: 
Connect to any technologies in order to curate assets throughout their metadata whose cloud providers.
Enrich your knowledge with a flexible and powerful metamodel. 
Keep your repository up-to-date with our automation capabilities. 
Ensure the security and sovereignty of your data with a smart architecture.
Don't miss our live demo presented by Luc Legardeur (Co-founder of Zeenea) on May 18th at 11:55 AM CEST  to see how a smart data catalog can help you scale from local use cases to enterprise-wide metadata management.