Zeenea is proud to announce that we will be sponsoring at this year's Data Innovation Summit on August 18th – 21st! We are looking forward to meeting you for this 100% digital event via the Agorify app.
Join us if you are interested in a personalized demo of our data catalog, in attending our digital workshop or if you'd like to discover our newest white paper. We will also be able to have group discussions directly in the app.
Why attend the Data Innovation Summit ?
The Data Innovation Summit is the leading data and advanced analytics event in the Nordic countries, and focuses on data-driven and AI-ready enterprises. There will be more than 1600 delegates and 74 exhibitors this year.
The simplicity of Zeenea's implementation allows to deliver & use its cloud-based data catalog anywhere in the world!
We will therefore be presenting and networking on the Agorify app on August 18th – 21st.
Find out the schedule on this link .
Our conference : Smart Data Catalogs – A must-have for Data Leaders
Attend our workshop on August 18th at 1:30PM through the Agorify app.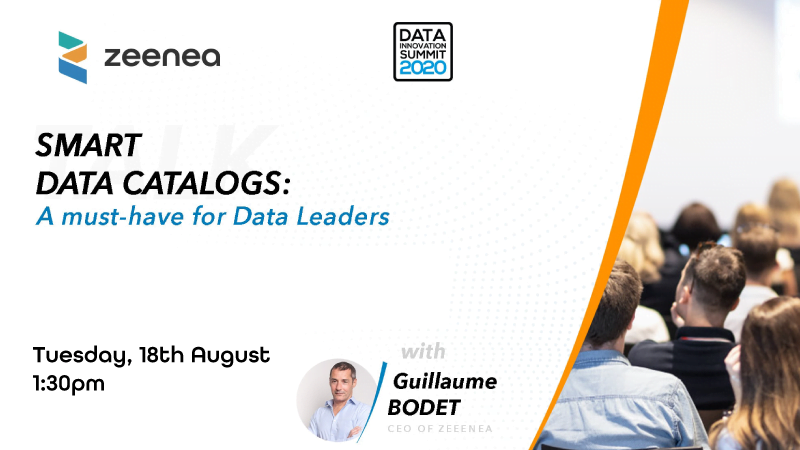 Cataloging valuable data assets to support data literacy is turning into a cornerstone of any company-wide data strategy. However, with the rapid growth of the data landscape and with the diversity of data sources and data types, maintaining a manual catalog of those assets becomes extremely difficult, even virtually impossible.
Introducing the Smart Data Catalog, providing ML-powered metadata management! Automate processes such as the discovery, inventorying, profiling and tagging of data assets.
Nevertheless we, at Zeenea, believe that a smart data catalog is not limited to just Machine Learning! It also means automated deep and multi-channel metadata-gathering automation, similarity detection, data knowledge crowdsourcing, social curation, adaptive user experiences, etc.
Join Guillaume Bodet, CEO of Zeenea on August 18th at 1:30pm to see how a smart data catalog can help you scale from local use cases to enterprise-wide metadata management.
Want more information on Zeenea Data Catalog? Contact us now.