You have data – and lots of it. However, it is messy, incomplete, and scattered into several different platforms, databases, and even spreadsheets. On top of this, some of your information is inaccessible, or worse – accessible to the wrong people. And as the go-to data experts of the company, Data Stewards must be able to identify the who, what, when, where, and why of their data to build a reliable stewardship program.
Unfortunately, Data Stewards face a major roadblock to success – the lack of tools to support their role. When dealing with large volumes of data, maintaining data documentation, managing enterprise metadata, and tackling quality & governance issues can be quite challenging.
This is where Zeenea steps in. Our data discovery platform – and its smart and automated metadata management features – facilitates the lives of Data Stewards. Discover 5 of them in this article.
Feature 1: Universal connectivity
Automatically extract and inventory metadata from your data sources
As mentioned above, a lot of enterprise data is spread across many different information sources, making it difficult, even impossible, for Data Stewards to manage and control their data landscape. Zeenea provides a next-generation data cataloging solution that centralizes and unifies all enterprise metadata into a single source of truth. Our platform's wide-range of native connectors automatically retrieves and collects metadata through our APIs and scanners.
Feature 2: A Flexible & Adaptable Metamodel
Automate data documentation
Documenting information can be extremely time-consuming, with sometimes thousands of properties, fields, and other important metadata that need to be implemented for business teams to fully understand and have the necessary context on the data they are consulting.
Zeenea provides a flexible and adaptable way to build metamodel templates for pre-configured (datasets, fields, data processes, etc) and an unlimited amount of custom objects (procedures, rules, KPIs, regulations, etc).
Import or create your documentation templates by simply dragging & dropping your existing properties along with your tags, and other custom metadata into your templates. Made a mistake in your template? No problem! Add, remove, or modify your properties and sections as you please – your items are automatically updated after you've finished editing them.
After you've defined your templates, easily visualize all the assets that make up your metamodel, as well as their relationships with our dynamic diagram. Our user-friendly design shows the details of each type of object – their sections and their properties – and updates automatically after each template change. You can also zoom in or out on the object of your choice and export an image of your metamodel.
Do the same for your Glossary information! We separated the Physical & Logical metamodel from the Glossary metamodel so Data Stewards and other contributors can easily define and find their Business Glossary assets. Using the same process as the Physical & Logical metamodel, create or import semantic objects, organize them in hierarchies, and configure the way your glossary items are mapped with technical assets with our flexible templates.
Feature 3: Automatic Data Lineage
Trace your data transformations
In order for Data Stewards to build accurate and trustworthy compliance reports, data lineage capabilities are essential. Many software developers offer lineage capabilities, but rare are those who understand it. Via a visual and easy-to-interpret lineage graph, Zeenea offers your users the possibility to navigate through the lifecycle of their data. Click on any item to get an overview of its documentation, relations to other assets, as well as its metadata to obtain a 360° view of your catalog items.
Feature 4: Smart suggestions
Quickly identify personal data
With the GDPR, California Consumer Privacy Act, and other regulations regarding the security and privacy of the information of individuals, it can be a hassle to go through each existing set of information to ensure you've correctly indicated the data as personal. To always ensure your information is correctly labeled, Zeenea analyzes similarities between existing personal data by identifying and giving suggestions on which fields to tag as "personal data". Data Stewards can accept, ignore, or delete suggestions directly from their dashboard.
Feature 5: An effective permission sets model
Ensure the right people are accessing the right data
For organizations with various types of users accessing their data landscape, it doesn't make sense to give everyone full access to modify anything and everything. Especially when dealing with sensitive or personal information. For this reason, Zeenea designed an effective permission sets model to allow Data Stewards to increase efficiency for your organization and reduce the risk of errors. Assign read-only, edition, and admin rights in all or different parts of the catalog to not only ensure a secure catalog but also save time when data consumers need to find an asset's referent.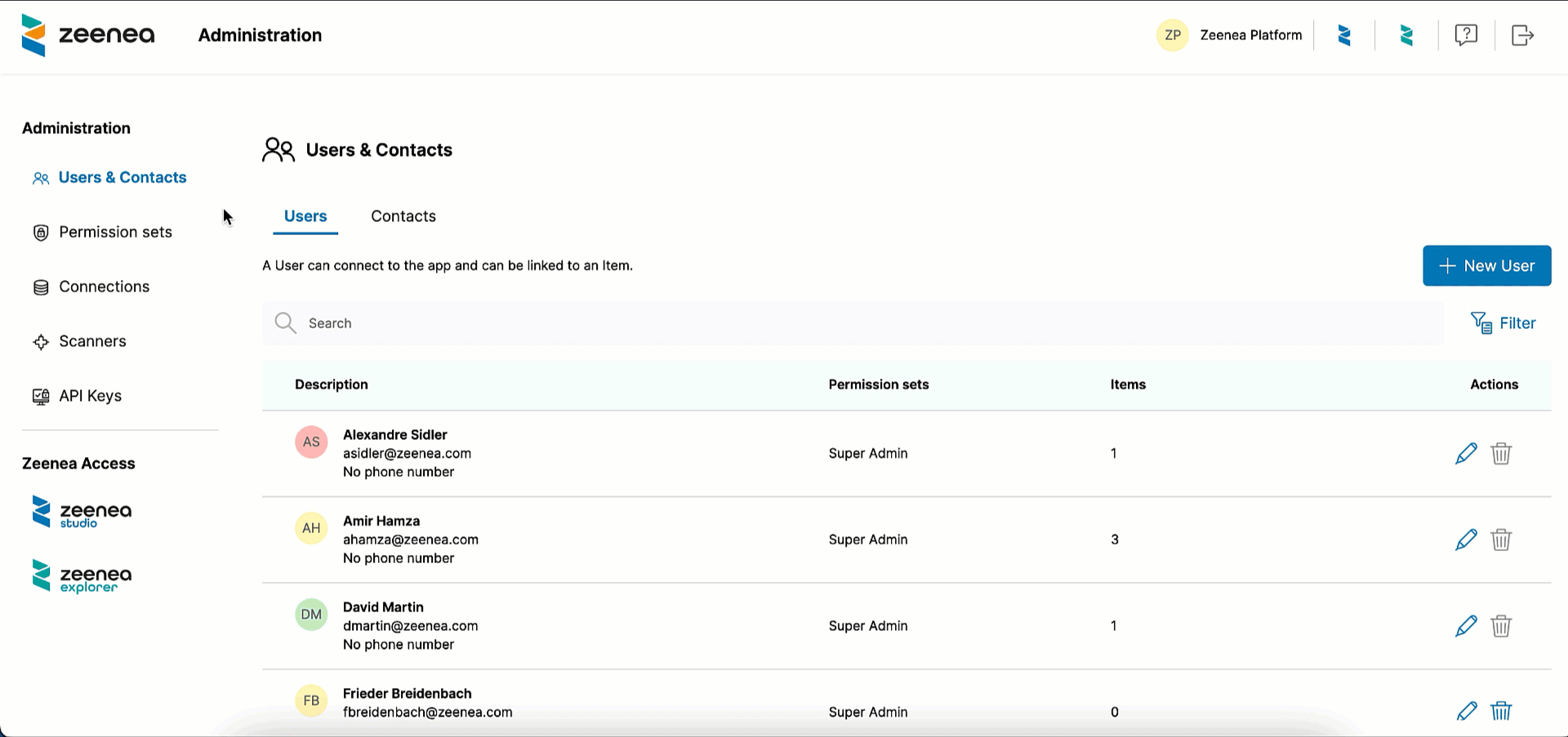 Ready to start your data stewardship program with Zeenea?
If you're interested in Zeenea's features for your data documentation & stewardship needs, contact us for a 30-minute personalized demo with one of our data experts.