Product launch: Zeenea Explorer, the data discovery application for your data teams
Feature Note
We are pleased to announce the launch of Zeenea Explorer, the data discovery application of our data catalog.
This application announces the launch of a new generation of data catalog focused on user experience and issues. In regard to Zeenea Explorer, we wanted to further support our users' exploratory approaches, beyond our search capabilities based on metadata indexing, scoring and filtering, already present in our first application: Zeenea Studio.
We thus chose to separate our data catalog into 2 distinct apps:
The very first one. Zeenea Studio is the application for your data management teams to manage, maintain and enrich the documentation of a data asset.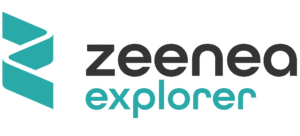 And the most recent one, Zeenea Explorer, an application entirely dedicated to the exploration process of your data teams.
Why Zeenea Explorer?
As you know, your digital transformations have turned the information landscape upside down in all sectors by multiplying the volumes of available data and the people involved in their consumption and production.
Your data must be understood by everyone, including the newer profiles you recently recruited (data scientists and data analysts) and your operational departments, whose maturity around data subjects is gradually increasing: product teams, marketing, finance, human resources, customer relations, logistics, etc.
However, due to a lack of means to identify, locate and understand these datasets, they often remain opaque for the majority, and their potential cannot be exploited. Congnilytica survey revealed back in January 2019:
"data science teams still spend 80% of their time preparing and cleaning their data rather than analyzing it".
The solution to this problem, is to build a registry for available datasets, document them through metadata, and provide data consumers with a catalog that allows them to search and consult their information.
Our challenge was precisely to make a technological breakthrough in the field of metadata management, and to build a new generation data catalog, by developing applications focused on specific uses and by relying on strong user experiences, shared by new SaaS productivity tools and the automation of task management.
Today, to meet the growing demand of your end-users (data scientists, analysts, DPOs, engineers, and more generally anyone seeking to use or understand the organization's data), Zeenea offers in our data catalog a brand new application: Zeenea Explorer. This application aims to improve the exploratory functionalities of our data catalog.
Zeenea Explorer: search across everything, your way
Our great product team is convinced:
"The relevance of a result is very much dependent on the role of the user, and his or her areas of intervention. For the same research, a Data Scientist will consider certain results relevant, while a Software Architect or a Security Manager will have other expectations."
So we took the gamble of separating the exploratory experiment from its data catalog in a brand new application. It wants to provide a strong user experience for your data consumers.
In other words, Zeenea Explorer becomes the front-office application of our data catalog, strongly inspired by e-commerce sites and offers very simple ergonomics based on the search, exploration and collaboration of data and its uses.
Customized and powerful searches
From now on, Zeenea will continuously work on the construction of user profiles, as well as the integration of additional parameter in the search engine allowing to take into account this profile in the ranking of the results.
Complimentary information displayed
Profiling will include both statistical information managed in the applications (user functions, team membership, participation in projects, etc.) and dynamic information (search and exploration history).
Prioritization of information
Not all teams have the same needs. With Zeenea Explorer, the display of information will vary depending on the teams and users. For the same asset, a Data Scientist will find certain information relevant, while a Data Architect or Security Manager will have other expectations. Thus, the application will refine the layout of the documentation so that each team has the data they need, at a glance.
Pertinent suggestions
In the same way as in the general public marketplace, users will be able to access personalized suggestions, and will access personalized search results that will enrich the recommendation system day after day. Explorer will provide spontaneous suggestions to different users as soon as they connect to the solution.
The Data scientist, the first user of Zeenea Explorer, before many others…
Zeenea announced its intention to initially focus on data science teams, the first profiles to be impacted in research and data mining within the company. This profound innovation aims to accelerate data science projects in companies.