Zeenea x Palantir Foundry
Connector Highlight
At Zeenea, we develop advanced connectors to automatically synchronize metadata between our data discovery platform and all your sources. This native connectivity saves you the tedious and challenging task of manually finding the data you need for a specific business use case that often requires access to scarce technical resources.
Discover and unlock the value from your Palantir data
Palantir Foundry is an ontology-powered operating system for modern enterprises. More than a data platform, Palantir Foundry extends a company's existing sources of truth (such as data lakes, data warehouses, etc.), analytics tools, and governance paradigms to fuel operational efficiency.
Synchronize your Palantir data via Zeenea's connector
With Zeenea, connect to your Palantir operational system in seconds. Our connector allows you to automatically collect and update technical metadata (technical names, data types, changes related to your schema), operational metadata (date of the last update, original source, volume), but also the documentation you may have provided at the field table level.
Through the retrieval of all information related to ontology, collections, and tags, our solution enables you to build your data discovery platform so your data consumers can quickly and easily find, discover, and understand their Palantir Foundry data.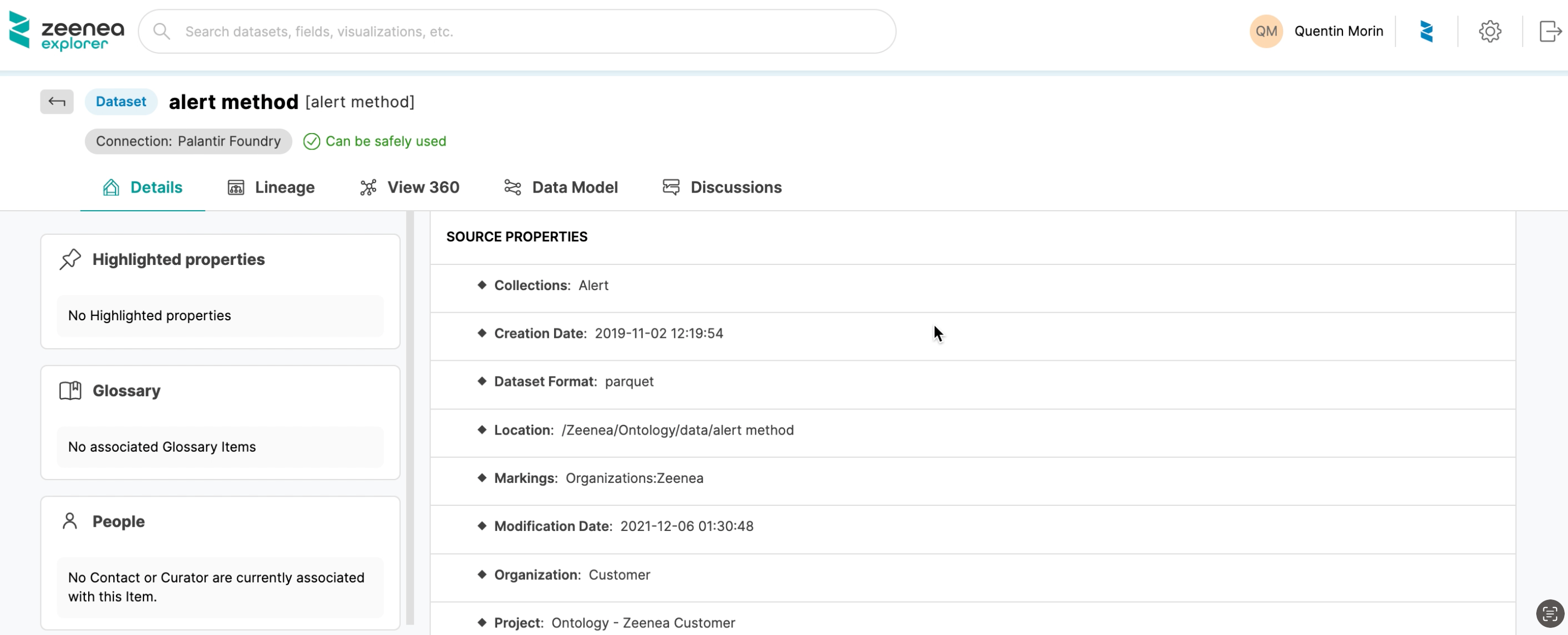 Zeenea is compatible with:
Palantir Foundry ✅
How does the Palantir Foundry integration work in Zeenea?
Easily and quickly configure the Palantir connector from our platfor
m
Prerequisites: Use Palantir's OAuth authentication system to identify yourself and collect metadata through the API.
Download and configure Zeenea's Palantir plugin;
Start collecting and inventorying your Items into the data catalog to view their details and relationships!
Ready to unlock the value from your Palantir data?