Product Release – July 2023
Release
Welcome back to our product updates blog! Here's a rundown of the new features you can now take advantage of. 
Our newest features
New & improved results page & filtering experience in Zeenea Explorer
We're excited to announce that just like our homepage, we've refined the results page in Zeenea Explorer! These changes include clearer filtering options and a more user-friendly design. With these updates, you'll see more relevant information on each result for even more context.
To save time and improve readability, we've made sure that:
Available filters are always visible, making it easier for you to narrow down your search,
By clicking on a search result, an overview panel with more information is always available without losing the context of your search,
The filters most relevant to your search are placed at the top of the page, allowing you to quickly get the results you need for your use cases.
Zeenea is now available in German!
We are excited to announce that Zeenea is now available in German! We've expanded our language support to cater to our growing customer base in Germany and German-speaking regions. Zeenea users can now seamlessly navigate and interact with their data discovery platform in their preferred language. 
Data Sampling on Datasets & Fields
Data Sampling is important for data users when searching for a data asset to ensure it aligns with their intended use (regarding quality, format, etc.). That's why Zeenea has introduced a new feature, allowing Data Stewards to sample their information for existing Datasets in the catalog!
When Data Sampling is activated on a Dataset, Fields can be configured to be obfuscated, thereby eliminating any risk of displaying personal information.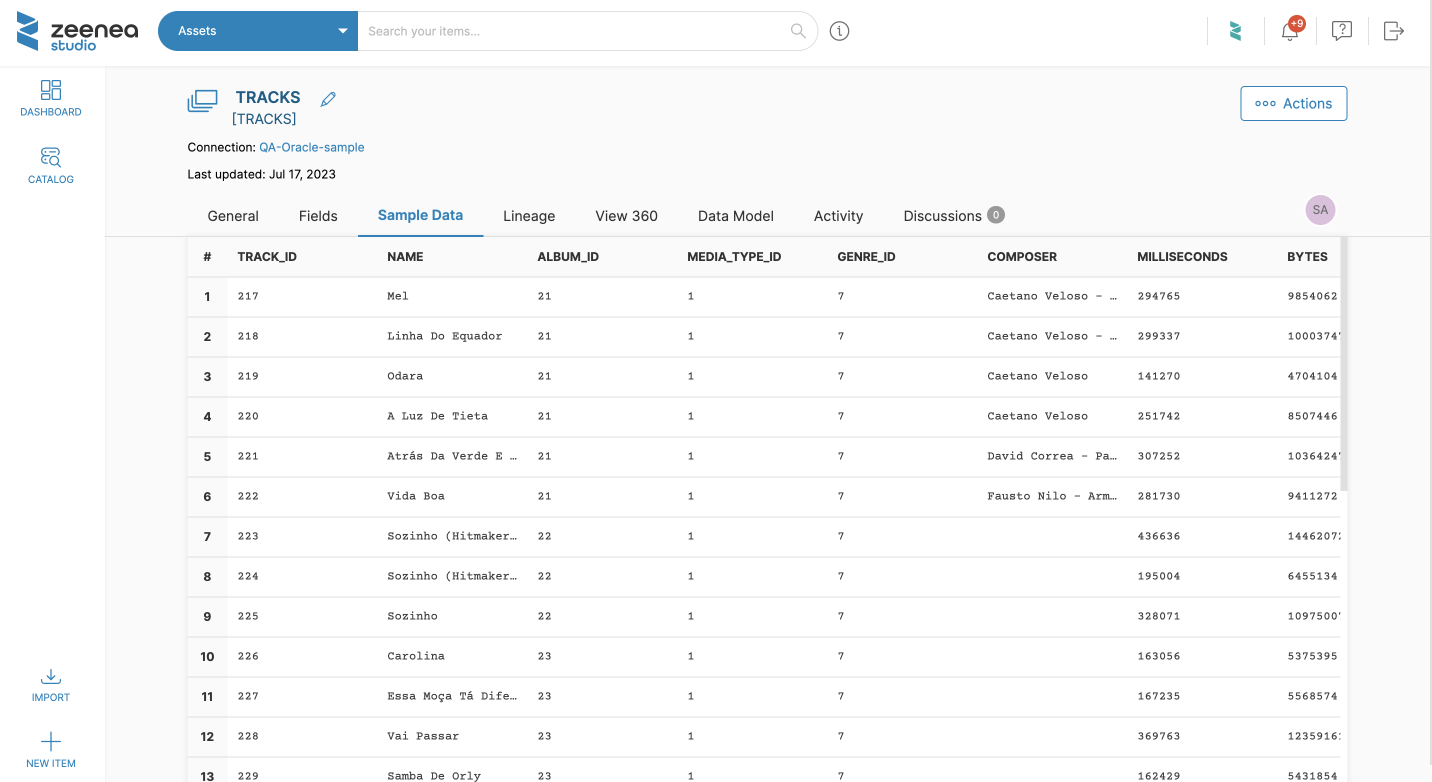 Improved Catalog API user experience
To facilitate documentation tasks, Zeenea has improved its Catalog APIs!
Easily query a specific asset or list of assets and filter your requests by property, connection, last update date, and much more via advanced operators. Our Catalog APIs also enable Data Stewards to enrich and automate their assets' documentation by enabling the creation, modification, and deletion of Catalog Items and their associated metadata from external sources.
Search directly in your Fields
Zeenea now enables users to directly search for the information that appears in their Fields by using the "INFIELD:" operator.
In addition, the search suggestions have improved, enabling you to view what other users have previously searched for.
Search for your assets using natural language!
Zeenea has integrated Natural Language Processing (NLP) search capabilities! This groundbreaking feature allows users to interact with Zeenea's search engine using everyday language, making data exploration more intuitive and efficient.
In order to accomplish this functionality, Zeenea leveraged the potential of OpenAI's APIs and the advanced language processing capabilities of GPT-3.5. Here are a few examples of the questions you can now ask in Zeenea's search engine:
"Find all datasets holding customer data in the central Data Lake."
"List all duplicated datasets in the catalog."
"Where can I find an analysis of our historical customer retention performance?"
New connectors
Zeenea can now connect to:
SAC (SAP Analytics Cloud) is a cloud-based analytics solution offered by SAP that combines business intelligence, planning, and predictive analytics capabilities. It enables organizations to gather data from different sources, perform data modeling and analysis, and create interactive visualizations.
With Zeenea, catalog your Stories and other SAP Analytics Cloud data assets and visualize the origins of your data with our automatic lineage features!
SSAS, or SQL Server Analysis Services, is a Microsoft Business Intelligence tool that enables organizations to analyze and visualize large volumes of data. It offers OLAP capabilities and data mining functionality to design multidimensional models, known as cubes, for efficient querying and analysis.
Easily analyze your SSAS data with Zeenea Data Discovery Platform!