June 2022 Zeenea Product Spotlight
Release
Welcome back to our product updates blog! Here's a rundown of the new features you can now take advantage of. 
Our newest features:
Export your Dataset Fields
Easily export all Fields of a specific Dataset in Zeenea Studio! Share the information with other users or manage their documentation through a file import.
 Improved search experiences through fuzzy matching capabilities in Zeenea Explorer
Zeenea Explorer now provides improved search capabilities through fuzzy matching. Our catalog will help data users find the information assets they need by finding strings that match patterns to show the expected results – even if the search has typos or errors. 

Facilitate Catalog exploration for your users 
Easily differentiate Item types with badges
With large volumes of data of various formats and types, it can be difficult for data consumers to differentiate the different Item Types available in your catalog. This is why Zeenea Explorer displays badges to be able to discern your catalog assets easily! 

Directly explore the catalog by Item Type from the Zeenea Explorer homepage
We've enhanced our exploration capabilities by being able to explore by Item Types directly from the homepage. This will help you save time when you don't know exactly what data you're looking for! After selecting an Item Type, your search results will automatically apply a filter with that Item Type.
Easily find the catalog Items that need further documentation
In Zeenea Studio, it is now possible to identify the catalog Items that need to be enriched by filtering results with empty values! Include empty values on your property filters and contacts. This allows Data Stewards to ensure better catalog management, optimize documentation effort, and guarantee catalog completion.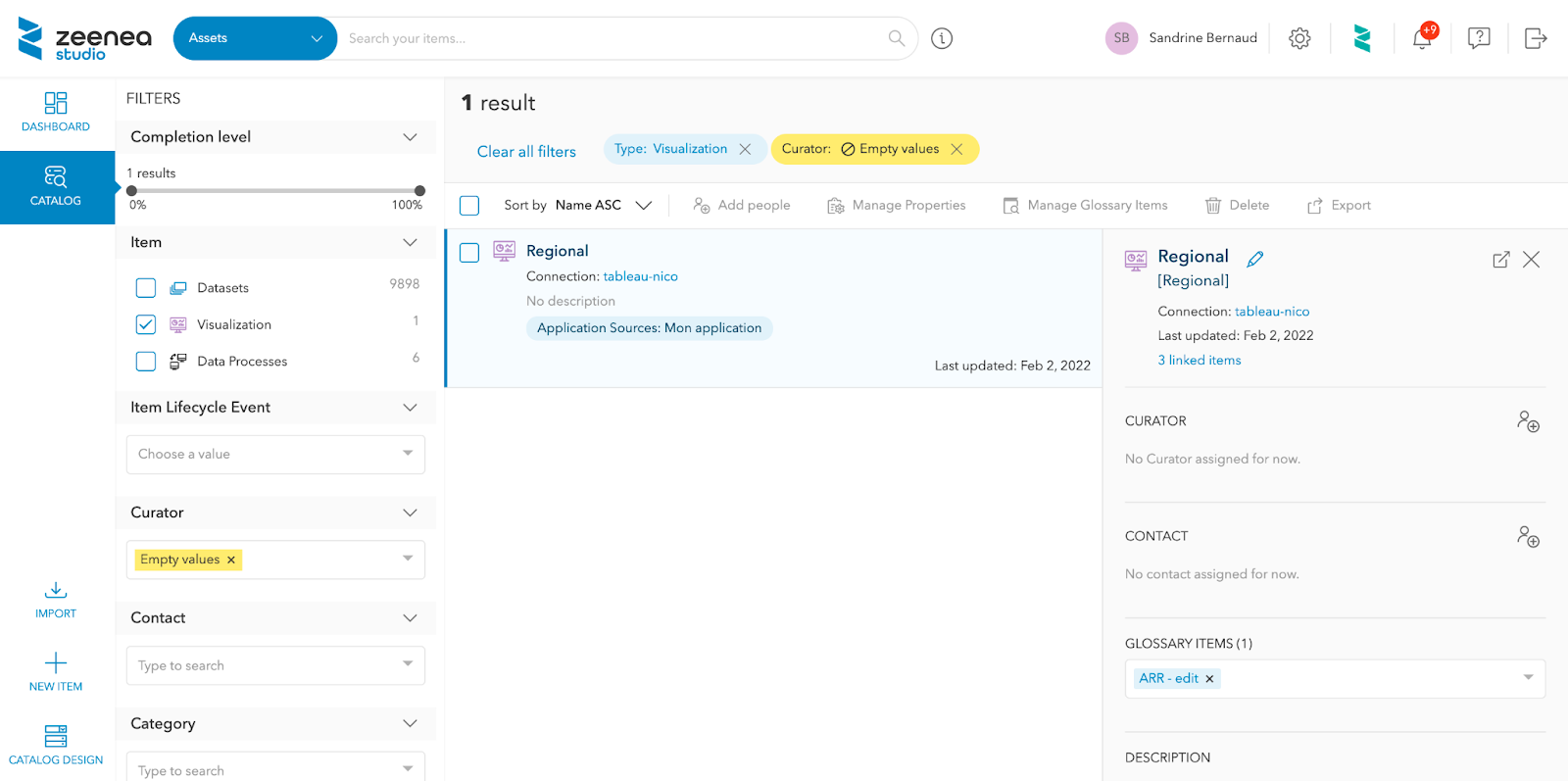 Zeenea can now connect to:
Leader in data virtualization solutions, Denodo offers broad access to structured and unstructured data residing in enterprise, big data, and cloud sources, in both batch and real-time. 
Start visualizing and managing your Denodo data directly in Zeenea Data Catalog!
Splunk delivers a data platform that empowers enterprise security, full-stack observability, and limitless custom applications. 
Start cataloging the structure of your Splunk data models in Zeenea!

Netezza is a powerful and highly parallelized Data Warehousing system powered by IBM. 
With Zeenea, quickly source metadata from your IBM Netezza database management system.
Zeenea provides AWS customers with advanced data management features in order to build a single point of trustful and comprehensive information for simple and efficient data discovery for data teams. Over the years, we've developed many Amazon Web Services connectors such as Redshift, Dynamo DB, S3, and of course AWS Glue. 
Today, we've updated our Glue connector to enable data users to synchronize their AWS Glue jobs and automatically model the lineage between their source data and their destination!