Improve data scientists' journey
A data scientist's missions are, among others, to develop predictive models, to make data understandable and exploitable for the enterprise's top management, and build machine learning algorithms.
To achieve their missions, collaborators must be able to determine what data is available, which ones they really need, understand the data (context and quality), and finally know how to retrieve them! 
However, surveys still suggest that roughly 80% of data scientists' time is spent on cleaning, finding, and understanding data instead of analyzing it…
Simplify data discovery for your data scientists



 In order to bring meaning and context around data assets, it is essential for an enterprise to be equipped with a data catalog.
 Zeenea is the solution that allows your Data Scientists, among others, to find, identify and understand data from an intuitive interface.
SMART SEARCH ENGINE
Easily find and retrieve relevant datasets
Our data catalog indexes, and automatically updates, a data set's knowledge in Zeenea from the storage systems with which it is connected.
In the same way as Google, Data Scientists have access to a search engine to accelerate and simplify the discovery of relevant data sets for their use cases.
Simply type in a keyword, add a few filters, click search to find the needed data sets.
Contextualize data
Work with the right information
Zeenea's features allow data users, such as Data Scientists, to understand a data set's context.
Metadata imported automatically or manually entered by the Data Steward in our data catalog allows anyone to verify the relevancy or even the quality of a data set for their use case.
A Data Scientist can also study the relations associated with a data asset with our data lineage feature, a visual representation of the lifecycle of the data.
EXPLORE USE cASES
Collaborate on data science projects
We offer a collaborative data catalog that allows Data Scientists to share their knowledge on datasets and their uses.
The different data profiles (CDO, Data Steward or even a Data Analyst) thus participate in the construction and improvement of knowledge of the enterprise's data assets.
The centralized information in our data catalog allows a tribal knowledge around an enterprise's data. In fact, sharing information and feedback in our data catalog allows Data Scientists to make better decisions when choosing which datasets to use.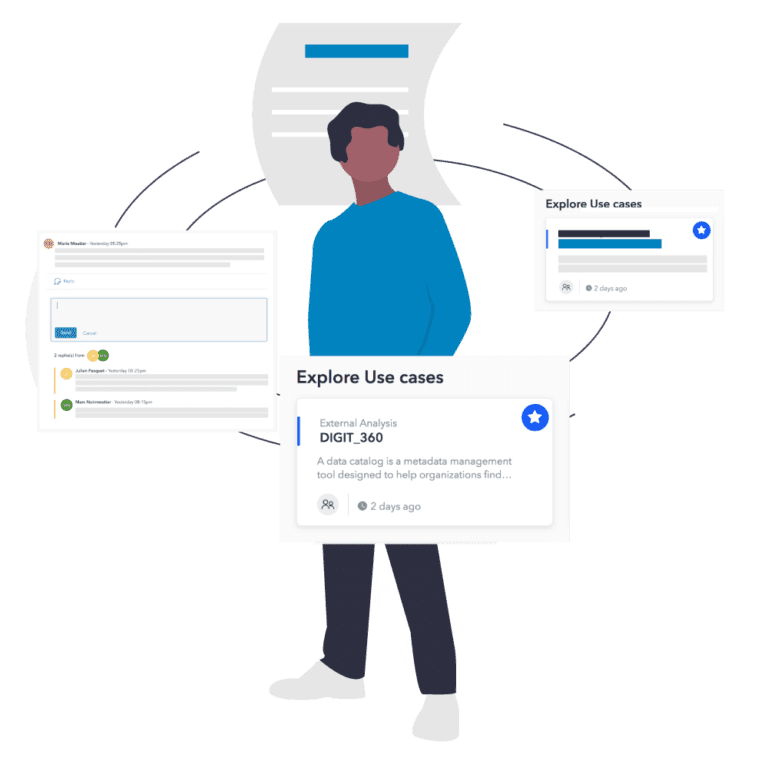 Let's Get Started
Make data meaningful & discoverable for your teams